There are currently 3 sessions of our Youth Archery Program:

January-February 12pm -1pm (8 weeks)
June-July 12pm -1pm (8 weeks)

Participants use our Recurve or Genesis compound rental equipment and shoot a 40 arrow round on a round-faced indoor target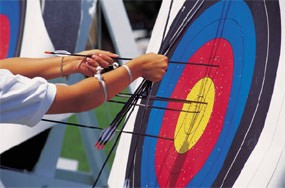 -AGES 8 - 17 ANY SKILL LEVEL!
-40 ARROW ROUND
-INSTRUCTION AVAILABLE
-SHOOT RECURVE or GENESIS BOWS
-SHOOT AT 10 YARDS!
-WIN AGE SPECIFIC AWARDS
High Game
High Average
Most Improved
-$100.00 TOTAL COST for the 8 week program!